The Cambrian Heights Community Hall hosts a large open-area meeting space suitable for wedding receptions, parties, dances and presentations.  The main hall can accommodate 150 people, and measures 40 feet by 47 feet.  It is well-lit, with views onto the skating arena and playing fields to the rear of the building.  Banquet tables and chairs are included with hall rental.
*Our Hall will be under renovation over the summer, so the hall is not available to rent for July and August 2017.
** While every effort is made to ensure the accuracy of the Calendar, CHCA makes no guarantee of hall availability. To inquire, please contact CHCA_Hall@telus.net.
The hall is also equipped with a full kitchen, and includes a cooler, commercial dish washer and gas ranges.  As we are working on up-grading the kitchen ventilation system. the stoves can be used for warming food only.  Use of glassware, plates and cutlery is also included in hall rental fee.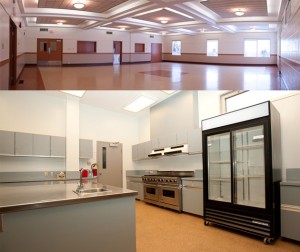 Hall rental fees
Saturday – $375 + $400 damage deposit (fully refundable)
Sunday  afternoon – $30 / hour (minimum of 3 hours) + $400 security deposit (fully refundable)
Weekday evenings – $30 / hour + $400 security deposit (fully refundable)
Summer weekdays – $550 / week + $400 security deposit (fully refundable)
All prices include GST.  Damage deposit required upon completion of rental contract.  Deposit fully refunded if booking is cancelled no less than two weeks prior; no refund if booking is cancelled within two weeks of the event.
Community Resident Association Members enjoy a
10% Discount on Saturday Hall rentals.
Please view our Hall Rental Agreement for an overview of our policies.
For more information, or to book a time to view the hall and speak with our hall manager, please leave a message at the hall at 403-284-1175 or Email CHCA_Hall@telus.net.