To find out what's happening at the Cambrian Heights Hall, or to find out about hall rental availability, click on the events list below.
---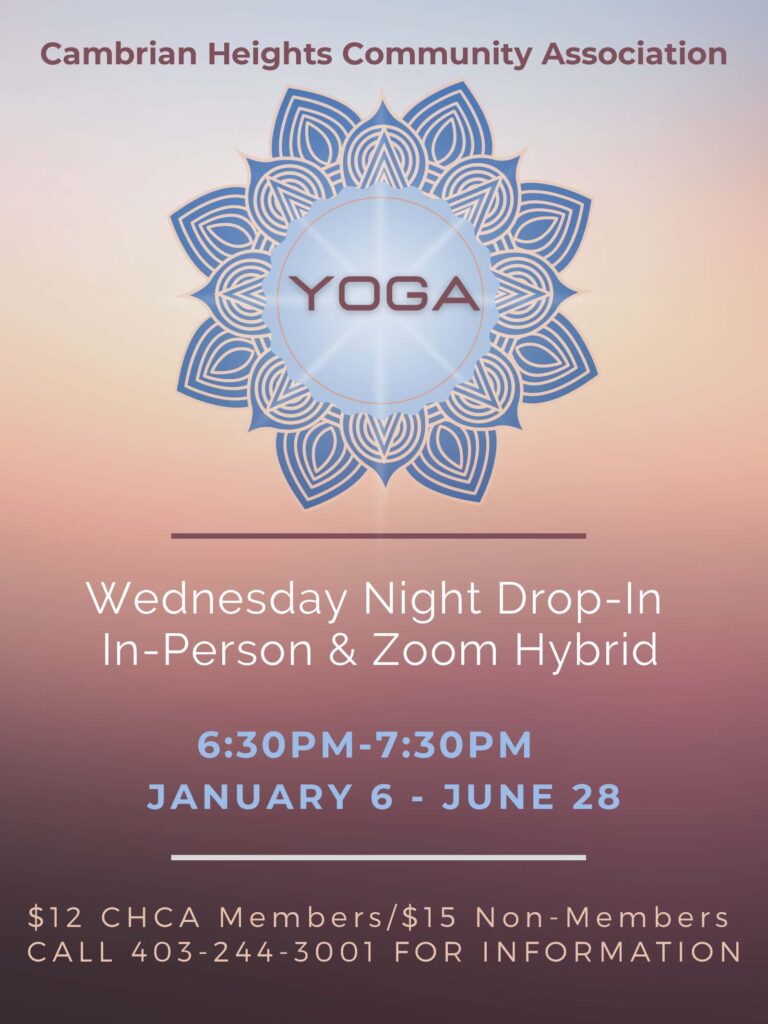 Wednesday Night Zoom Yoga with Kyrsten Blair
Cambrian Heights Community Association presents Wednesday Night Yoga with Kyrsten Blair. This is a beginner-friendly, open level, prop-loving, light-hearted approach, with modifications to suit all levels of practice. Anatomical, poetic, and personal growth themes heavily influence the class experience. A fusion of Iyengar, Hatha, Vinyasa, Pranayama, and meditation.
Drop-in or regularly attend, the choice is yours.
"Yoga is not about touching your toes, it is what you learn on the way down." – Jigar Gor
Where:
In-Person Zoom hybrid (pre-registration required to obtain link)
When:
Wednesdays, 6:30pm-7:30pm
Drop-in:
$12 community members (with valid 2023 membership)
$15 non-community members
Payment in advance of each class unlocks access to the Zoom link.
E-transfers to k_blair@telus.net by 5 pm Wednesday to pre-register. The class time is 6:30 pm – 7:30 pm.
Please feel free to contact the instructor directly at k_blair@telus.net or 403-244-3001 with any questions or concerns.
---
Join

 

CHCA and 

Fearless Leader Lorene of Scary Bunny 

Fitness and Wellness Coaching

 as we continue to deliver your fitness classes

both

 

LIVE at CHCA Hall

 

and

 

simultaneously 

via Zoom

**

!

 

ALL

 fitness levels welcome!

Body-Lift Fitness Method (low impact, FUNctional training)
Monday 6 pm
Cardio/Strength Fusion is a 55 minute "Low Impact, FUNctional Training" (Lift) Method class, created to lift your spirits at the end of a long day, get your body warmed up, heart pumping and muscles ready to tackle everything that daily life throws your way.  NO jumping or burpees involved!  Yoga mat and weights required.
Barre Above®
Thursday 6 pm
We're going to get this Cardio Barre party started by infusing this low impact, high-intensity workout with the best of standing Pilates, boxing, and Barre to create a fat torching, core-strengthening, muscle sculpting, interval workout.  Yoga mat and light weights required. 
Kettlebell Strength Training
Saturday
Presented by Scary Bunny Fitness & Wellness Coaching
Scarybunnybefit.com | scarybunnybefit@gmail.com 
Beginner, Sat 10:45am | Level 1, Sat 9:30am (Outdoors Sept/Oct, Zoom Nov through Spring) 
Don't let the name fool you; there is no kickboxing involved, and, as a beginner, you are welcome to start off with weights instead of kettlebells! The 'kickboxing" refers to the martial arts movement that is part of this great full body, FUNctional workout.
This workout is all about YOU! YOUR goals, YOUR fitness level, and YOUR personal physical considerations. Yoga mat and weights (or kettlebell) required.
*** Cambrian Community membership pricing applies. *** 
Drop In:
Cambrian Community Members $8, Non-members $10
Best Investment:
*Month to month, per fitness program:
CHCA Members $30, Non-members $40
*Month to month, BOTH fitness program:
CHCA Members $58, Non-members $80
E-Transfer: Lbhughes246@gmail.com
Need more information? Join Cambrian Heights Facebook page or email Lorene at scarybunnybefit@gmail.com
Zoom link, if requested, provided at registration. *Based on 4 weeks/month, expires 30/31st
---
Block Party Subsidy
The Cambrian Heights Community Association ("CHCA") has continued into 2017 their financial support of Neighbourhood Block Parties within the Community.
The Community will provide up to $100 reimbursement for costs associated with such neighbourhood events upon approval of an application made to the President of CHCA at president@cambrianheightscommunity.com.
The application must simply specify the time, date and location as well as outlining anticipated costs (alcohol is excluded) and confirm the area of invitation. This program is designed to encourage the development of community spirit and social interaction amongst the residents within your street or block. Such personal interaction benefits all through increased social familiarity that provides both improved livability and safety within the neighbourhood in which you and your family reside.
Below are some pictures of a recent Block Party held in the fall of 2016
This slideshow requires JavaScript.
---
Jazzercise Dance Mixx
Torch fat, sculpt lean muscle and crush calories with this high-intensity workout that mixes dance-based cardio with strength training. Fresh pulse-pounding music and body-blasting moves bring the intensity to transform your body, boost your mood and ignite your energy.   Incinerate up to 800 calories in this 60-minute class.  This high-intensity dance workout targets the three major muscle groups—upper body, abs and legs—so you'll feel it where you need it.
New students enjoy their first class FREE!  No joining fees.  All fitness levels welcome.
Drop-In $15, New Student passes and on-going multi-class passes available.  Cash, cheque or e-transfer accepted.
Where:  Cambrian Heights Community Hall
600 Northmount Drive NW Calgary, AB
When:  Monday, Wednesday and Friday 5:45-6:45PM
Open year-round and closed on Statutory holidays and between Christmas and New Year
For more information, please contact Lorene at scarybunnybefit@gmail.com, (403)815-3821, or www.scarybunnybefit.com
---