The Cambrian Heights Community Association (CHCA) is developing an open spaces strategy as part of its "Creating Our Future Together" initiative. This strategy is about ensuring Cambrian Heights is a community with "great open spaces" that serve as natural gathering points in the community and promote the quality of life of residents. Additionally, increased usage of these spaces contributes to building a vibrant community and helps to ensure their preservation for generations to come.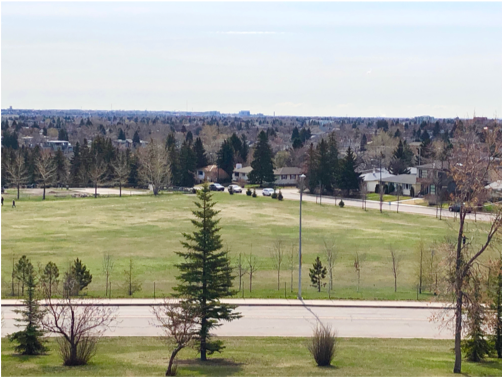 A key aspect of this strategy involves reimagining our open spaces, looking beyond what they currently are to what they could ultimately become. At this point, one area of focus is the park space located at northeast corner of 32nd Avenue NW & 10th Street NW. This space, which is a designated off-leash space, is a destination for pet owners from throughout the area and was the focus of a recent attempt by the City to remove this valuable park from our community for expansion of Queen's Park Cemetery.
So, how might we reimagine and enhance this off-leash space to create the best possible experience for animals and people alike? If you are interested in getting involved in this conversation, the CHCA is looking for you. Please contact us at cambrianheights@gmail.com.