We have received the following letter from the City of Calgary:
"Dear Resident,
This letter is to inform you of some proposed changes in your area.
The Queen's Park Cemetery has been serving Calgarians for nearly 80 years, and it is close to capacity. Queen's Park is currently the only active City-operated cemetery offering burial options for Calgarians in the northern quadrants.
Calgary Parks has been working to secure new cemetery space for some time. This has included pursuing opportunities to locate a new cemetery in the new Southeast Cemetery, which will open in the next few years.
To continue offering adequate burial space for Calgarians, Calgary Parks is proposing to expand the Queen's Park Cemetery into the south-west corner of the site, currently used as an off-leash area. This involves several steps, including going through a formal land use re-designation process.
We would like to work with the community to find alternative or improved off-leash space nearby. We have identified several options, see map below.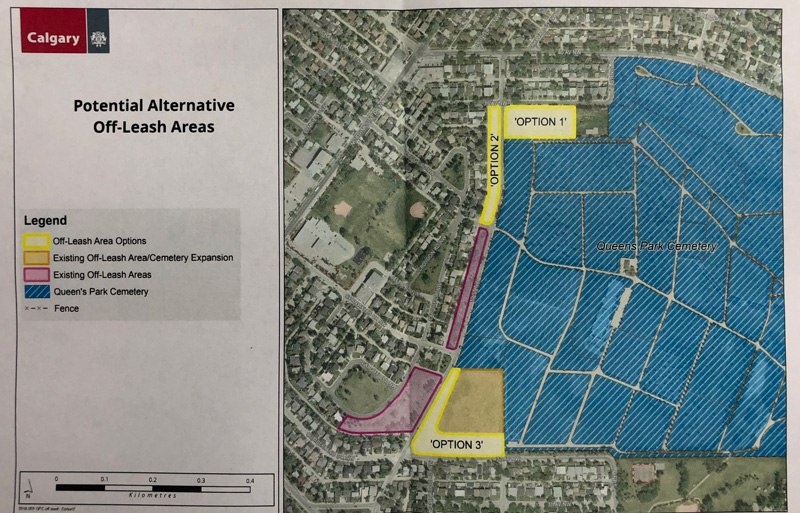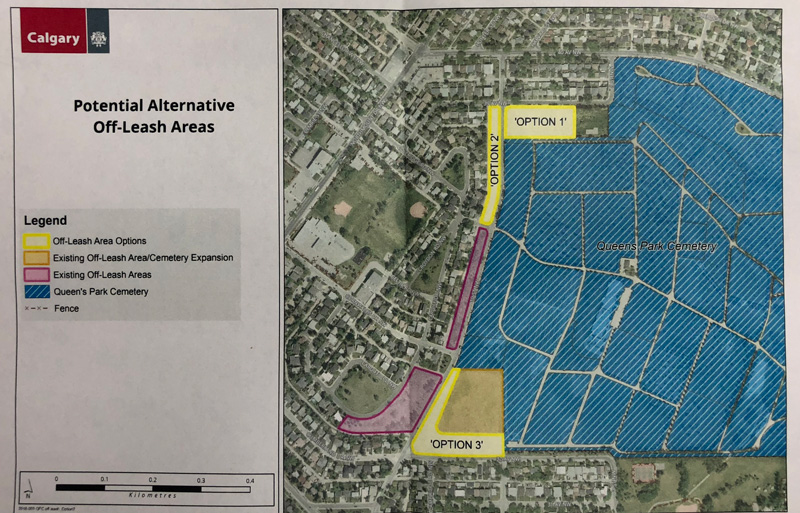 Upcoming engagement opportunities
The City would like to continue discussions with the community and residents near to proposed off leash sites. Specifically, we're looking to:
Discuss proposed alternative sites for off-leash areas in the community.
Share more information about the land use application process for the proposed cemetery expansion
You are invited to attend one of two drop-in engagement sessions:
Thursday, April 26, 6-8 pm
Highwood Community Hall
16 Harlow Avenue NW
Wednesday, May 9, 6-8 pm
Highwood Community Hall
16 Harlow Avenue NW
You can also learn more and provide feedback online through The City's Engage site from April 23 – May 16 at engage.calgary.ca/queenspark
You will be able to provide further comments through the land use application process between April 26 – May 23 through the PD Maps site, calgary.ca/QueensPark.
For more details about the project, visit calgary.ca/offleashprojects, or contact 311."