Did you know that The City provides free reminders for your blue, green and black cart pickup days? All you need to do is sign up! When it's time to put your carts out for collection, we'll send you a reminder. Get instant access to your pickup schedule, plus useful tips for using your blue, green and black carts. You'll also receive notifications about any changes to your collection schedule.
Sign up for free collection day reminders at calgary.ca/collection. You can get notifications by:
Text message
Email
Telephone (this is a voice recording that can go to a mobile or landline)
Downloading the Garbage Day app on your smartphone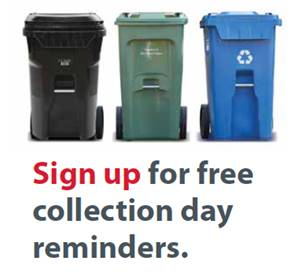 There's also an option to print your own calendar. Don't have access to a printer at home? Ask a family member or friend to print the calendar for you, or print it for free at a Calgary Public Library location.
Tell a neighbour, friend or family member to sign up too! If they need a bit of help, download the app on their iPhone/Android or sign them up for the type of reminders that work best for them, such as email or telephone. Visit calgary.ca/collection to learn more.