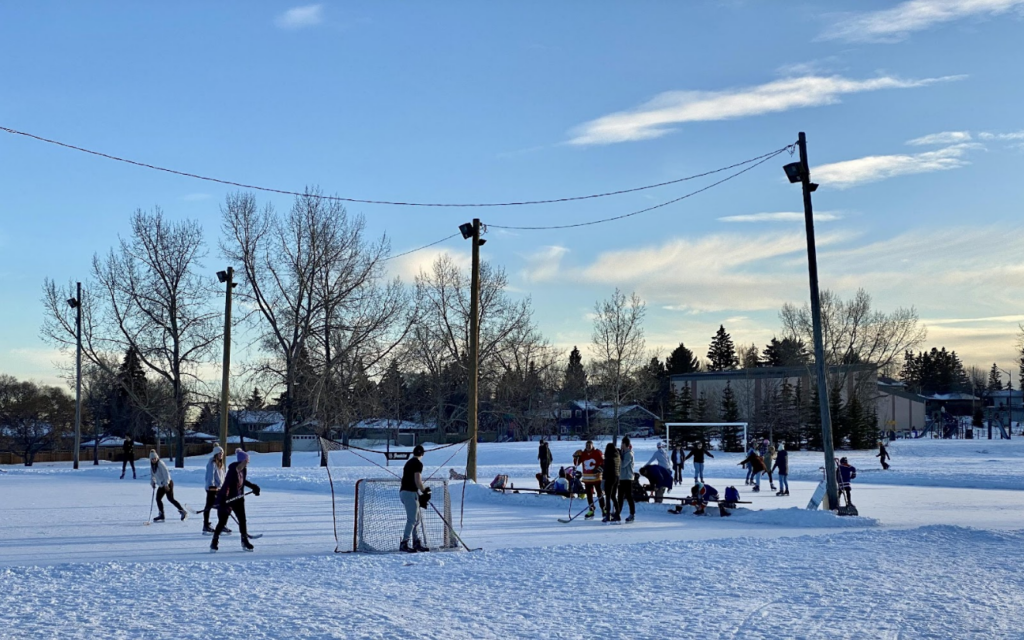 We have watched the active use of our two outdoor ice rinks and look forward to more people enjoying skating 
over the next two months. 
We thank our volunteers for their tireless work in maintaining the excellence of the ice surfaces. We encourage all users to respect each other and utilize the garbage bins. By the reading of this report our January 29 Polar party will have occurred. This annually provides free skate usage for new ice skaters and activities to introduce and encourage outdoor winter activities.
We have partnered with Rosemont Community for our annual Spring Cleanup event. Dates and support for this event will be determined by the City of Calgary this month so watch our website (cambrianheightscommunity.com) for timing and details.
Our new Social Committee has been formed to address the continuation of existing social events as well as developing new programs to involve all elements of our community. The first new event will be a St. Patrick Ceilidh Dance where you can learn the Irish/Scottish folk music dance steps while enjoying refreshments and snacks over the evening.This will be held March 18 at the Community Hall. Ticket information is available on our website. If you would like to become involved with our social activities please contact the committee at social@cambrianheightscommunity.com .
We have operated a community garden for a number of years. We currently have a few open garden beds. If you are interested in reviewing an opportunity to grow your own vegetables this summer please contact us at cambrianheights@gmail.com for more information.
We have been awarded Casino dates of April 17 and 18 in 2023. Casino proceeds allow the Association to remain financially viable and provide services and facilities to the community. We need volunteers for those two nights to work a shift at the Pure Casino Calgary as well as organizational help in coordinating the volunteers over the two days. No experience is required. Come and enjoy a hot meal, meet fellow residents and support your community. Transportation will be provided to and from the casino location if required. Please contact us at  president@cambrianheightscommunity.com for more information.
We have updated our website and will be making changes over the coming months to improve its usability. We encourage all residents to review the website for planning and development issues, past history of the community, annual financial statements and upcoming social activities or issues of relevance to the Community. On planning and development issues, residents should utilize the City 311 line or contact directly the City File Manager on applications where you feel such development will have a detrimental impact. The Community Association has no special position in regards to these applications, but does generally comment on non contextual applications. Thus all offsetting Owners to any such development should make their objections known directly to impact the approval process.
As always, we continue to invite residents to become involved in community issues and activities by volunteering some time as either a Board member or volunteer for specific activities. We currently are in need of a volunteer to replace our Treasurer who is retiring this year. To discuss this volunteer opportunity or if you have general questions or comments please feel free to contact any of the Directors. Cambrian Heights has a dedicated but small group of volunteers trying to make your community safe, vigilant towards new developments and providing programs such as Fitness and Yoga while engaging residents with social events. But we continue to need help. Consider at minimum registering your email address on our website to gain early access to upcoming programs, social events and issues of importance to the community.
Daryl Connolly, President CHCA