The continuing focus of the Community remains the filing of the Re-designation Application DL2018- 0062 converting the Community's existing Reserve (S-SPR) Park land bounded by 10th Street and 32nd Avenue into S-CRI (Special Purpose – City and Regional Infrastructure) classification and then the proposed expansion of the Queen's Park Cemetery ("QPC") onto these lands. These Reserve Lands are currently being utilized as an Off Leash Dog Park. The original application was filed March 19 with responses required by April 13 to City Planning and Development. With an overwhelming opposition to this application from individuals and the Community Association expressed in emails to Planning and Development, City Parks as well as Alderman Sean Chu, City Parks agreed to "slow down" the process.
Two "drop-in engagement" sessions took place at Highwood Community Hall April 25 and May 9. The comment period for residents was held open till May 25. Calgary Parks continued however to disguise this Application as a dog park issue and presented the expansion of the QPC onto the second largest Park Reserve lands within Cambrian Heights as their sole right. They sought in their engagement sessions to address only two issues; alternative off leash dog areas and annotating the application process. No attempt was made to justify the need for QPC expansion and the annexation of this Park forever. The Community Association provided members outside the Hall for both these meetings to answer questions and explain the issues to residents attending the sessions. A photo from the first meeting is shown where the only true engagement with Parks and Planning representatives took place informally in the parking lot.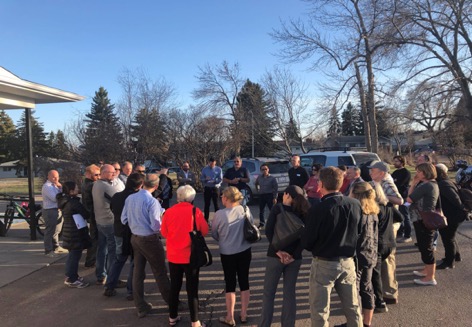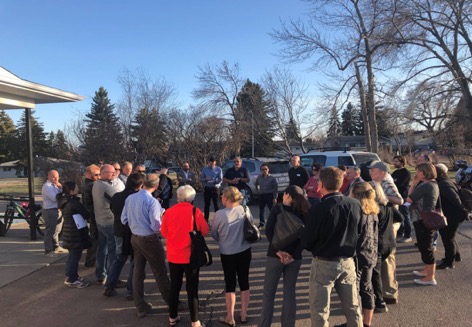 As pointed out last month this coercive approach to "annexing" these Park Lands is a repeat of Calgary Parks efforts in 2005-6 to expand the QPC into these lands. Details of this history and how the Community Association successfully fought this application may be found on our website (www.cambrianheightscommunity.com). In July 2006 City Council instructed Calgary Parks to not proceed with the acquisition of these lands for QPC expansion but rather to search out lands in the southern part of the City for a new cemetery. That of course was 12 years ago. They have failed to complete that mandate and want our Community to pay the price.
The Community Association continued through May to lobby Calgary Parks to withdraw the Application. Repeatedly Parks officials have quoted inventory within the existing boundaries of QPC to be 2-3 years. That is with the current 2017 practice of selling pre-needs burial sites at twice the rate of at need sites. This artificial "demand" could be easily reduced to extend further the existing life of QPC. This is against the scheduled opening of the City's new cemetery in south Calgary slated for late 2019. We are apprehensive, since there has been no future plans provided, of a desire by Calgary parks to continue to expand QPC over the years to satisfy the demand for an inner City cemetery at the expense of park lands in our community. At the writing of this letter the Planning department will be making a recommendation to the Calgary Planning Commission ("CPC") in June/July and the further recommendation of CPC going to City Council in the Fall. At that point Council will allow presentations or submissions by interested parties. We encourage all residents to follow developments closely on our website and by joining our facebook page (Cambrian Heights Community) which may be easily accessed from our website.
On a positive note the first Jane's Walk held in our Community on May 5 was a resounding success with over 50 attendees with children and dogs walking the neighbourhood. A picture of the attendees leaving the Community Hall is shown. Thanks to organizers Pablo Policzer and Jodi Dixon everyone learned of the community history and met some of the original homeowners within Cambrian Heights dating back to 1956. At the end everyone returned to the Community Hall for refreshments and conversations with new friends.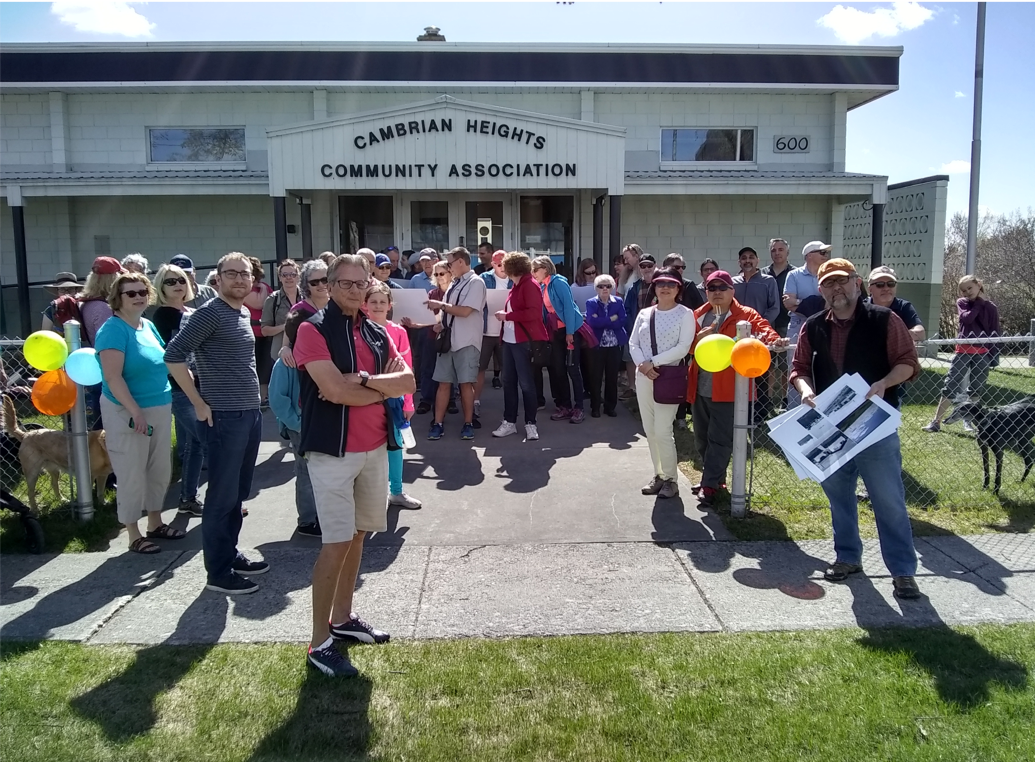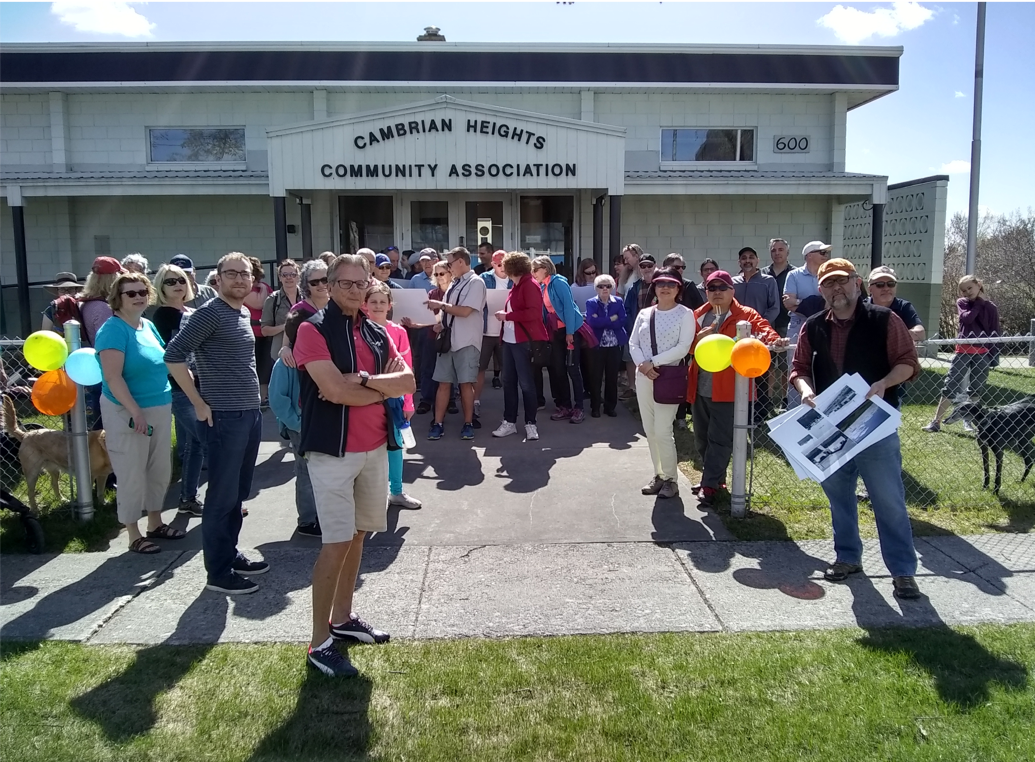 The Annual general Meeting was held on May 15 with higher attendance than is usually the case. The Park issue discussion plus attendance by Alderman Sean Chu and representation from our MLA Craig Coolahan made it an evening well worth attending. Our presentation and the Community financials have been added to the website for your reference.
A complete list of currently scheduled special events at the Community Hall are as follows:
Community Cleanup Event     Sept. 9
Fall Family BBQ                      Sept. 22
Halloween Party                     Oct. 27
Please check our website for updates and details of all events. Volunteering for setup, takedown or general assistance is an excellent way to make sure such events continue and to meet other members of the community. Please contact cambrianheights@gmail.com for more information on volunteering.
Due to a lack of volunteers we are not holding our Stampede Breakfast in July. It is unfortunate but an undertaking to prepare and feed 200-300 people involves a pre-commitment of residents and we cannot rely on the same few people for all our social programs.
We continue to look for volunteers who may have a specific interest in:
Secretary for Board & Annual General Meetings
Social Activity Organizers
Planning & Development Committee Members
Casino Fundraising Organizers
All the above have specific job descriptions and experienced past directors who can guide and ease the transition into community service. For more information please contact president@cambrianheightscommunity.com .
The next meeting of the Board will take place September 10th. All residents are welcome to attend and share any concerns, questions or ideas you may have for our community. These meetings take place at the Georgina Thomson City building on 14th Street and Northmount Drive.
Remember Participation Builds Your Community.
Daryl Connolly, President CHCA