With the Community Hall back to active usage we have been busy planning and developing programs and events. We have added music lessons once a week as an introductory course and are continuing with our Fitness and Yoga programs. We hosted our first-ever Bike Day on May 7 where volunteers serviced over 30 children's bikes for free at the community hall grounds. Activities for the kids with their bikes also involved safety instructions and an agility course. We thank Spencer Cutten and other resident volunteers for this idea and their dedication towards servicing the bikes during the day.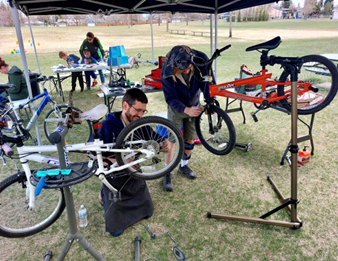 At the writing of this report, we are excited for the return of our Wine Tasting Events at the scheduled May 28 tasting of southern France wines with Highlander Wine and Spirits providing the expert commentary. We hope you had an opportunity to attend and enjoy this event.
For the first time, Cambrian Heights Community Association will host a car show with the Die Volksmesse 2022 sponsored by Bugs, Bunnies, and Buses (bugsbunniesandbuses.com) on Saturday, July 16. Reference this poster and their website for more details.
Our Annual General Meeting is scheduled for June 28 at 7:00 in the Community Hall. We will be hosting this event with a social reception to follow our annual report and election of directors allowing everyone the opportunity to informally discuss issues important to our residents. We have invited both our MLA and Ward Councillor to attend the event. Put this on your calendar and contribute to the discussion that evening.
We are planning an afternoon family music and food event on Saturday, September 17 at which the Gunn Blues Band will be performing an outdoor music concert that was so well attended last year. We plan to have additional activities for the family as well as food and non-alcoholic beverages available. Consult our website (www.cambrianheightscommunity.com) for more details in the coming months and mark the date on your calendar.
Members of the Calgary Police Service in District 3 have created a Facebook and Twitter page to keep community residents connected by sharing positive stories and community concerns as well as crime trends that police are seeing arise in District 3. We encourage residents to follow this Facebook and Twitter page as another resource to receive information on types of crime within your community.
https://www.facebook.com/CalgaryPoliceDistrict3/
https://twitter.com/CPS_District3
With the pandemic, there has been a sharp increase in the usage of our park space in Cambrian Heights. We encourage residents to share their ideas to improve usability and help preserve the parks within our community. This is particularly important as developments that increase population density increase within the community.
We have all noticed an increase in development activity in Cambrian Heights. We encourage all owners planning a new build to reference our website for the document "Lessons Learned" and discuss design aspects with your neighbours or explore conversation with the Community Planning Committee to avoid conflicts in the development process. With the resignation of three of our Board members this year any-one interested in a role in the development of our community should consider joining our Planning Committee or perhaps the Board of Directors. It is a great way to help shape the nature of Cambrian Heights in the future as well as monthly social activities. To discuss either option please contact us at president@cambrianheightscommunity.com.
We request all residents of Cambrian Heights to provide feedback and ideas to us identifying the type of programs and activities you would like to see for our community. Your suggestions and potential voluntarism to enhance your community are always valued.
Daryl Connolly, President CHCA