The major issue that has arisen in our Community was the filing of the Redesignation Application DL2018- 0062 converting the Community's existing reserve (S-SPR) park land bounded by 10th Street and 32nd Avenue into S-CRI (Special Purpose – City and Regional Infrastructure) classification and then the proposed expansion of the Queen's Park Cemetery ("QPC") onto these lands. These reserve Lands are currently being utilized as an Off-Leash Dog Park. The application was filed March 19 with responses required by April 13 to City Planning and Development (giyan.brenkman@calgary.ca). Further, the City of Calgary Parks announced there would be an "informational session about the cemetery expansion" on May 9 from 6-8 PM at the Highwood Community Hall.
This coercive approach to "annexing" these park lands is a repeat of City Park's efforts in 2005-6 to expand the QPC into these lands. At that time the Community Association successfully fought this application based on these lands having been part of the Cambrian Heights Community since 1956 and had been assigned Reserve Status as parkland or green space for the community. In combination with the Reserve Status the Community demonstrated that according to the Provincial Municipal Government Act ("PMGA"), the City would have to pay into a special fund the market value of the land estimated at the time of between $6.5 – $9.0 million. Accordingly, in July 2006 City Council instructed City Parks to not proceed with the acquisition of these lands for QPC expansion but rather to search out lands in the southern part of the City for a new cemetery. That, of course, was 12 years ago.
So once again, City Parks is asking to do the same thing and is doing so without proper consultation with the Community involving reasonable timeframes for evaluation and response. With an overwhelming opposition to this application from individuals and the Community Association expressed in emails to Planning and Development, City Parks as well as Alderman Sean Chu (sean.chu@calgary.ca), the City Parks suspended their application on April 6. At the writing of this letter City Parks has indicated they are evaluating the application and will be holding engagement opportunities on the previously announced May 9 date and on possibly April 26. We strongly encourage all residents to attend and make your opinions heard. The City puts significant value on these types of meetings feedback. For updates involving this issue, residents should go to the City website (www.calgary.ca) and search QPC Expansion or LOC2018-0062.
While recognizing the space limitations of QPC all inner-city cemeteries have finite room for expansion. This public cemetery is over 80 years old and has served the City residents well. Now it is reaching capacity and there exists the new cemetery east of the Ralph Klein Park in the south. This is scheduled to be ready for interments by 2020. QPC has ample room to accommodate the next few years especially if bulk sales of "reserved" plots are ceased. Responses from residents copied to the Community Association has been 100% against the loss of this large park space for reasons of active year-round social recreation on the lands, the retention of this park as a Reserve for future generations, the need for inner-city communities of green space and the precedent this may establish for future annexation of the nearby public tennis courts and baseball ball field adjacent to the QPC to cover short-term needs. Once a cemetery, these park lands are forever lost.
I attach a picture of the three children who obtained over 100 names on a petition against the QPC expansion within a week or so of its announcement. Such community spirit is worth applauding. A second online petition gathered over 500 signatures can be found at www.change.org and search Cambrian Heights.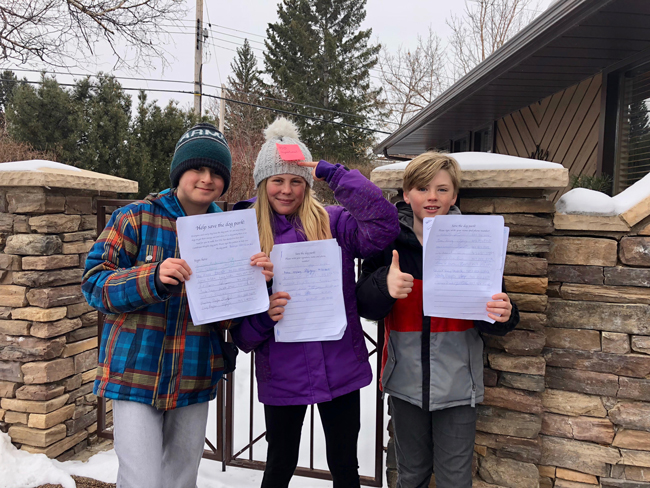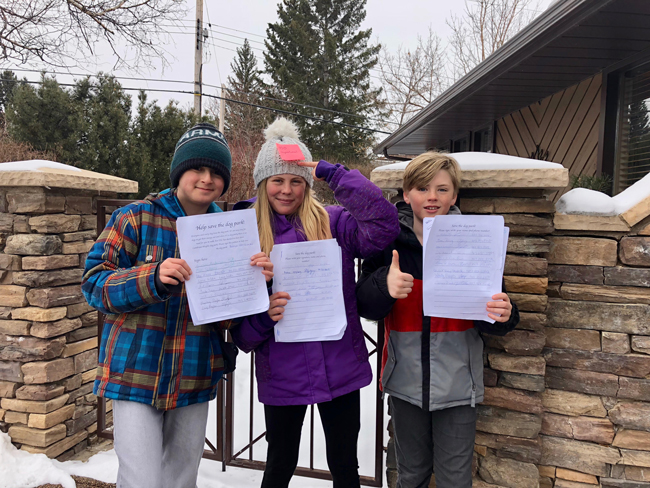 We encourage all residents to follow developments closely on our website and by joining our Facebook Group (Cambrian Heights Community) which may be easily accessed on our website. At the upcoming Annual General Meeting on May 15 at the Community Hall, we will also be updating the status of the City Parks plans and our response.
A complete list of currently scheduled special events at the Community Hall are as follows:
Jane's Walk May 5
Annual General Meeting May 15
Stampede Breakfast or July 14
alternatively a Fall BBQ September 22 or 29
Community Cleanup Event Sept. 9
Please check our website for updates and details of all events. Volunteering for setup, takedown or general assistance is an excellent way to make sure such events continue and to meet other members of the community. Please contact cambrianheights@gmail.com for more information on volunteering.
We are currently evaluating whether to re-instate our Stampede breakfast that was suspended due to the kitchen renovations last summer. As an alternative, we are investigating the possibility of hosting a family Fall BBQ in September as a replacement. Please voice your opinions by contacting the community at the previously identified email address.
We continue to look for volunteers who may have a specific interest in:
Secretary for Board & Annual General Meetings
Social Activity Organizers
Planning & Development Committee Members
Casino Fund Raising Organizers
All the above have specific job descriptions and experienced past directors who can guide and ease the transition into community service. For more information please contact president@cambrianheightscommunity.com.
The next meeting of the Board will take place May 7th. All residents are welcome to attend and share any concerns, questions or ideas you may have for our community. Please contact us at our email address for the specific time and place.
Remember Participation Builds Better Communities.
Daryl Connolly, President CHCA