Due to the rise in COVID cases the province of Alberta once again changed course with the announcement introducing new AHS regulations that impacted the indoor renting of our hall facilities for social events. These had the effect of placing liability with the community association for the adherence to masking, vaccination and social distances. As such the hall will suspend rentals for social events for as long as these regulations are in place. This includes moving our fall wine tasting into the spring of 2022.
We did however sponsor, as was the case last year, a free pumpkin giveaway for residents of the Community. This took place on Saturday, October 9 between 10 AM and 2 PM and was a great success. We thank both Barb Milne and Christine Breed for their efforts in making this popular event a success.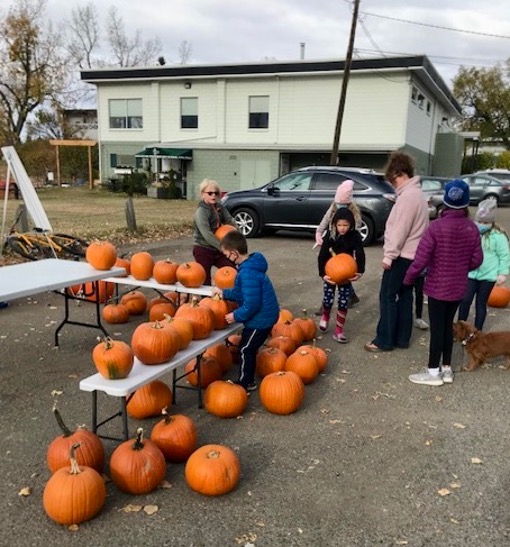 Equally successful was the free outdoor concert held on September 18 on a sunny fall afternoon. Over 95 residents attended this event and plans are already underway to repeat this event in the summer of 2022. We thank the Gunn Blues Band for their participation.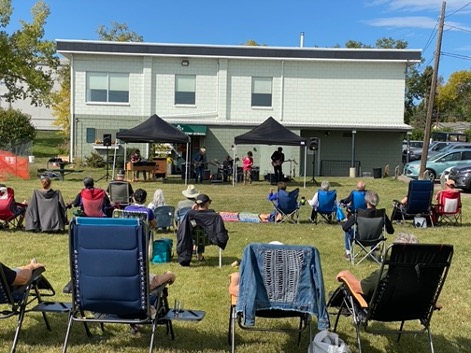 As a reminder, the Board of Directors has decided to award all those who paid for a membership in 2021 a free membership for 2022. This Is in recognition of the facility shut down and suspensions of most programs and activities at the Hall this year and last due to the COVID-19 pandemic.
The Alberta Low Impact Development Partnership has finished creating a "rain garden" beside the Community Hall, demonstrating plants that will flourish in southern Alberta under natural watering conditions. This will be the subject of a live seminar next spring for all residents. Stay tuned to the website for details.
We remind residents that a new Responsible Pet Ownership Bylaw will go into effect on January 1, 2022. This addresses "effective compliance and education in response to new trends in animal care and ownership". It also addresses aggressive and noise issues relating to dogs. A full review of these new policies may be obtained on the calgary.ca website.
Depending on weather our two outdoor ice skating rinks will be taking shape as winter progresses. Should you wish to help out Scott and his team this year please contact them (scottcolleenj@gmail.com) to offer your volunteer services. This effort is rewarded by the extensive use made of these rinks by our residents, young and old, over the winter months.
We continue to highlight the design and work being undertaken towards improving the Off-Leash Park as described in the "digital brochure" accessible through the Cambrian Heights website. As previously reported we have established a partnership with the Parks Foundation Calgary ("PFC") to allow tax receipts to be issued for any donations made directly to the PFC for the enhancement of this park. Details of how such a contribution may be accomplished online will be published soon.
Daryl Connolly, President CHCA