As of August 16, the province of Alberta will be removing all masking, testing and quarantine requirements. Time will tell whether this return to voluntary health guidelines will, with vaccinations, provide a long term and safe return to normal activities. Your community association will continue with efforts to sanitize and follow general health guidelines to prevent the spread of COVID-19 and its variants as we return to normal social activities in our hall. We are accepting all rental inquiries and reservations at CHCA_Hall@telus.net, or at 403-284-1175. Normal activities in the Community Hall have resumed starting with both our in house Fitness and Yoga programs. Please reference the informational posters in this issue for details towards attending these programs sponsored by the community association. Future social events will include a Halloween Party in October and a Wine Tasting Event in November with a southern France theme.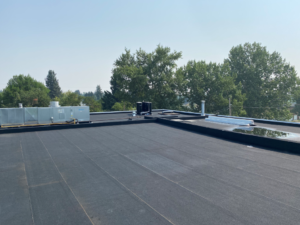 Also on Saturday afternoon September 18 we are holding a free outdoor concert featuring the Gunn Blues Band (www.gunnbluesband.com). This will be a bring your own chair or blanket concert with food truck service from 1:00PM to 3:00PM. The concert will take place rain or shine with the band playing play for approximately 1.25 hours. The outdoor venue will be located at the back of the community hall. This will also be a chance to meet the Board members and bring items of concern or activity suggestions to their attention.
The Board of Directors has decided to award all those who paid for a membership in 2021 a free membership for 2022. This is in recognition of the facility shutdown and suspensions of most programs and activities at the Hall this year due to the COVID-19 pandemic.
With financial assistance provided by the city through its Capital Conservation Grant ("CCG") program, the community association has replaced the roof at the hall building due to a series of leaks that occurred in 2020 and early 2021. This city program provides 75% of the funding and we have applied to the province for support on the remaining 25% of the costs through their Community Facility Enhancement Program ( "CFEP"). At the writing of this report, we have not heard if this application has been approved. While the UCP government has announced funding cuts to this program, we continue to actively lobby, along with the Federation of Calgary Communities, to retain funding for this valuable social program on behalf of all Calgary Community Associations.
In terms of funding the activities of the Community Association, proceeds from our Casino's every two years are critical. This year we have been assigned September 8 and 9th at the Pure Casino Calgary. This effort is being organized by Isabel Boisvert and volunteers are required. Should you be able to help please contact Isabel at isabel.a.boisvert@gmail.com, for more information.
The Alberta Low Impact Development Partnership is creating a "rain garden" beside the Community Hall, demonstrating plants that will flourish in southern Alberta under natural watering conditions. This program is designed to showcase plant species that will thrive under storm water management. Work has begun at the writing of this report and hopefully by September it will be completed. For more information on this program please access their website (www.alidp.org). We are excited about this garden addition and will be providing updates and photos in our website and community social media platforms.
We continue to highlight the design and work being undertaken towards improving the Off Leash Park as described in this newsletter in the "digital brochure" accessible through the Cambrian Heights website. 49 new trees have been planted by Calgary Parks at locations selected by the volunteer committee. We have established a partnership with the Parks Foundation Calgary ("PFC") to allow tax receipts to be issued for any donations made directly to the PFC for the enhancement of this park. More information may be found on our website and digital brochure.
We continue to remind residents of the new 40 kph speed limits on our residential streets. There continues to be some confusion where speed limits change from 50 kph to 40 kph without warning. Unless posted otherwise, the speed limits on our residential streets is 40 kph.
Welcome Back to the Community Hall & Events
Daryl Connolly, President CHCA